Cost Engineering Event 2013
From April 17th till April 19th 2013 Cost Engineering hosted the 4th edition of one of the most important cost engineering events in Europe. This edition of the Cost Engineering Event attracted delegates from more than 25 different countries across the world with various backgrounds in the field of cost management. Contributing to the success of the Event was the great line-up of expert speakers and the participant's willingness to exchange knowledge with peers. The event was titled: "Total Cost Management; A World Of Opportunities"

As a result, the topics focussed on cost management solutions that can add value to your organization. Presentations covered a wide range of topics like cost estimating, risk analysis, cost control and project management. This made it a valuable event for everyone who wants to add value to their projects. Next to a strong line-up of speakers, the Cost Engineering Event was a great opportunity to meet people from the industry and exchange ideas. On this page you can find an overview of the well-respected speakers who presented at the Cost Engineering Event 2013.
The beautiful location of Hotel Ara in Zwijndrecht was the perfect setting for the Cost Engineering Event. After arrival and registration, coffee and tea made a good start of the day. The Event was officially opened by our co-founder and technical director Ko des Bouvrie, explaining the required safety instructions and the program of the Event. The presentation sessions were kicked-off by the keynote presentation of Hans Mes, Vice President Project Services at Shell. Following on the keynote presentation, presentations were held across two rooms so participants could choose their preferred subject.

During the coffee breaks and lunch there was time to catch up and discuss the topics that were presented. An exciting moment was the announcement of the Chapeau Award (won by Janne Skovgaard Kristensen) and the Great Give Away, where one person was randomly selected to win a Samsung Galaxy Tab II. Before a delicious dinner was served, many people joined the Cleopatra Enterprise showcase about maintenance and turnarounds. The day concluded with a drink at the hotel bar and a reflection on the day that passed.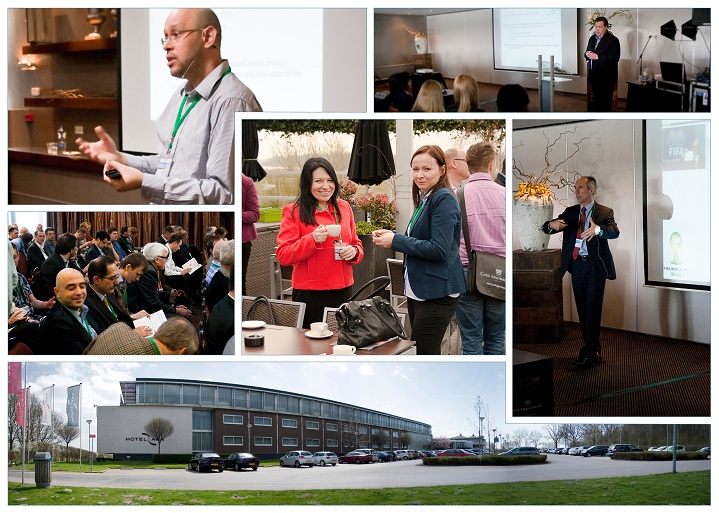 The second day brought more interesting topics and new insights in the cost engineering profession. The Ambassador Award for lifetime achievements and contributions to the profession was given to Larry Dysert. Some participants went back home after the second day, but many people also joined the workshop about Earned Value Management, hosted by Lance Stephenson on day 3.

We would like to thank all the participants and speakers for their contribution to the Cost Engineering Event. We hope to see you all again in 2015!

More photos of the Cost Engineering Event can be found on our Facebook page.