In September, Intratech and Cost Engineering have joined forces in South Korea. One of the results of this partnership was a seminar on cost engineering practices which was held on the 17th of September in Seoul.About 30 people gathered to hear more about the cooperation between Intratech and Cost Engineering and the field of cost engineering in general.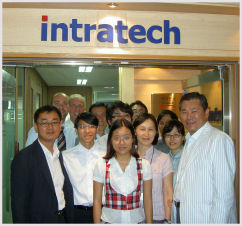 The meeting started off with a general presentation to introduce Cost Engineering and Intratech to the Korean audience. This was followed by an introduction to the field of cost engineering by Mr. Ko des Bouvrie. This introduction showed some of the methods used most in cost engineering and showed the value of a good cost engineering approach for industrial companies.
The seminar ended with an extensive demonstration of Cleopatra Enterprise. The main focus for the demonstration was not only to show Cleopatra Enterprise and its versatility and user friendliness. A good part of the focus was the application of the cost engineering methods explained earlier. This session made it clear that Cleopatra Enterprise as a tool offers great opportunities to structure an organizations' approach to cost engineering. And that offers great advantages to a company looking to maximize its control of projects and cost.