Dutch civil engineering data now available in Cleopatra Enterprise.
Reed Business is the owner of the Dutch civil cost databases bouwkosten.nl, gwwkosten.nl and beheerenonderhoudkosten.nl. These databases are continually monitored and adapted to the current situation in the Dutch market. Cost Engineering and Reed Business have now teamed up to bring these databases to Cleopatra Enterprise users. Through Cleopatra Enterprise's new Reed Business interface the information from the civil databases can be easily and quickly imported into your Cleopatra Knowledgebase. Working with the Reed Business civil databases ensures that you are always using the latest current information on the market in your estimate.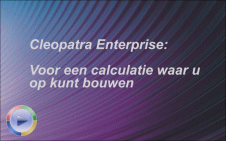 "Cleopatra Enterprise and Reed Business
For data you can build your estimate on."
The information from the bouwkosten.nl, gwwkosten.nl and 
beheerenonderhoudkosten.nl can only be obtained if you are a current subscriber to these services. For more information on these databases, please contact Cost Engineering  or Reed Business.