Ko des Bouvrie keynote speaker in Iceland
Recently, co-founder and technical director of Cost Engineering Ko des Bouvrie was invited to open the annual autumn conference of the Project Management Association in Iceland. The keynote speakers on the project management conference were cost engineering experts from Germany, the Netherlands and Iceland.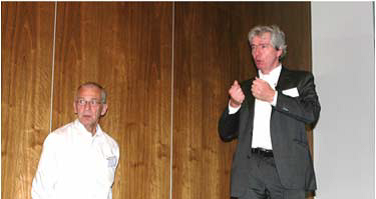 Ko des Bouvrie (left) with co-speaker Dr. Thomas Rieckmann
The event was held on the top floor of Reykjavik's tallest building. Ko opened the conference by briefing on the rising trade of cost engineering, and the important role of the cost engineer on technical investment and often neglected maintenance projects. The audience was left with several good advices on tools, methods and approaches of estimating and controlling project cost and outcome.
Later during the conference, Ko was again welcomed to the speaker's podium to discuss labour norms standards issued by the Dutch Association of Cost Engineers (DACE). On this topic Ko concluded that based on DACE's approach to scoping construction tasks and defining productivity, the developers have the ambitions for the labour norm standard to become globally accepted for owners and contractors of the construction industries.
Related articles
Manage your project: add points of control
Oil & Gas: Cost factors and the implications for estimating
White Paper: Scope Development Problems in Estimating
5 reasons why you can't do a project without cost estimating