Our technical director Ko des Bouvrie has been awarded the "ICEC Region II Award" for his excellent contributions he has made during the past decades in the field of Cost Engineering. Being part of the special interest group "Cost Engineering Process Industry" he made significant contributions to the DACE Price booklet (prijzenboekje), which despite the Dutch language is known all over the world!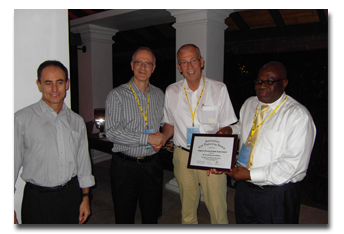 The last couple of years he has been the driving force behind the DACE Labour Norms publication and data set. A great achievement and since he is a firm advocate of sharing knowledge this version was also published in English. Thanks to this and his tireless effort in promoting the DACE activities around the globe, this dataset is already getting high esteem by other cost engineering organizations such as the AACE.
Ko has been nominated by the DACE for which he has been an active member for over 15 years. DACE nominated him because "he made significant contributions to our profession" and "Ko is a proud ambassador of DACE during every visit he makes abroad, either in Europe or beyond". We couldn't have said it better.
And since Ko is all about sharing knowledge and promoting the field of cost engineering, he is keen on lecturing young cost engineers, not only in the Netherlands, but all over the world. With in-depth technical knowledge and vivid practical examples he always knows to make a deep impression on the students. With inexhaustible enthusiasm he has recruited many candidates for the DACE Certified Cost Engineering Programme to make sure the cost engineering profession is a growing one.
Ko, we are proud to have you on our team and we hope you will keep up this spirit for many years to come!