Cost Engineering has visited the 7th International Cost Engineering Council World Congress & The 14th Pacific Association of Quantity Surveyors Congress in Singapore about Sustainable Cost Management.
The DACE organization has asked Cost Engineering to represent them at the ICEC World Congress at the beautiful location of the Resorts World of Sentosa. We accepted this honor and gave a presentation about how the DACE succeeded in publishing labour norms.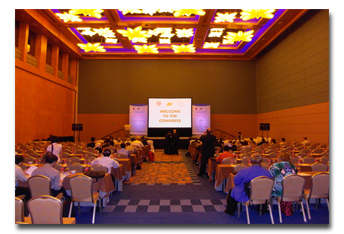 Cost Engineering is participating in the DACE workgroup about globalizing and harmonizing these labour norms for the industry to create and set new standards for owners and contractors and avoid and reduce discussions to make it possible to benchmark norms across organizations worldwide.
We contribute our appreciation to Rob van Hoeve of Fabricom-GDFSuez for making all the required preparations for the presentation and publishing the abstract and paper.
Due to our joined performance our efforts were recognized by the ICEC organization and therefore our speaker Ko des Bouvrie and  Rob van Hoeve were awarded by the organization for the best presentation. We can look back to a successful congress and we are willing to travel across the globe and to the corners of the world to contribute to the profession and share our knowledge with our colleagues in Cost Engineering and Quantity Surveying.