Cost Engineering Consultancy is proud to announce its allianceCost Engineering has visited the 54th annual meeting of the AACE congress at the Marriott Marquis hotel in Atlanta, GA, USA. We have been a well know visitor of the AACE congresses but for the first time we also participated as an exhibitor and showcase with a stand at the exhibitor area.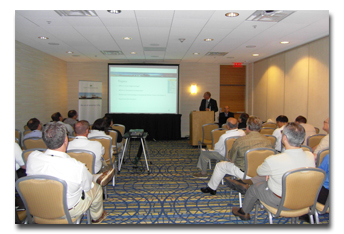 During this showcase we had an overwhelming audience were we presented the latest developments of Cleopatra Enterprise 4.0 with live practical examples for making different class type estimates for the industry. At the end of the demonstration we concluded with a lottery were a representative from Chevron won a portable DVD video player.
At the congress we have sealed our cooperation with Larry Dysert from the Conquest Consulting Group (CCG) and we are proud to announce our alliance with them as the exclusive United States reseller of the Cleopatra Enterprise.
We look back to a very successful congress with lots of new contacts and opportunities for Cost Engineering and we are already planning for next year's AACE 55th anniversary meeting at the Disneyland Resort Anaheim, CA, USA.